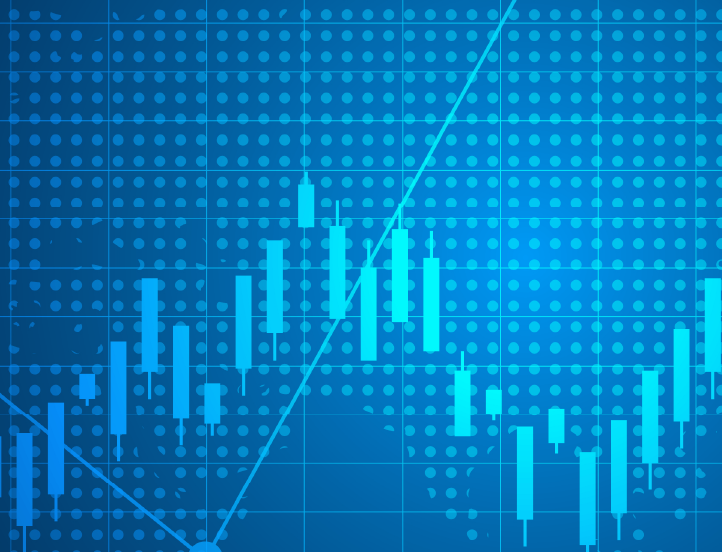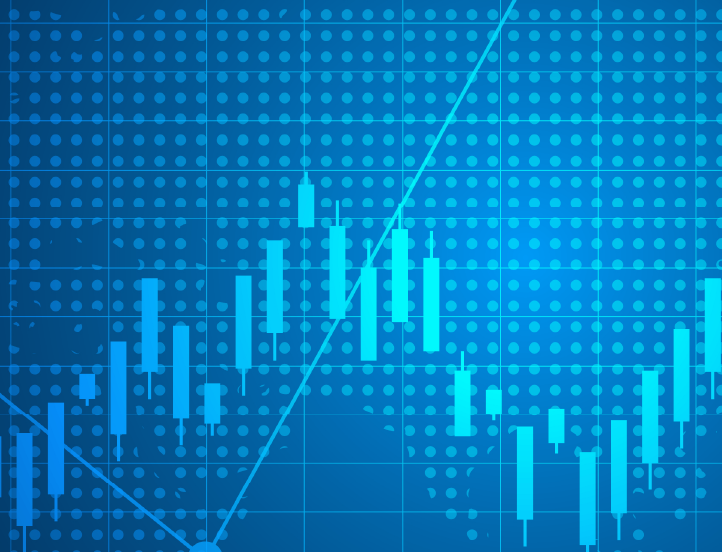 Mediaocean reports annual ad spend data from closed ecosystems

Growth in March 2021 reflects largest gains in past fifteen months; year-on-year comparison with the first month of lockdown suggests business confidence is bouncing back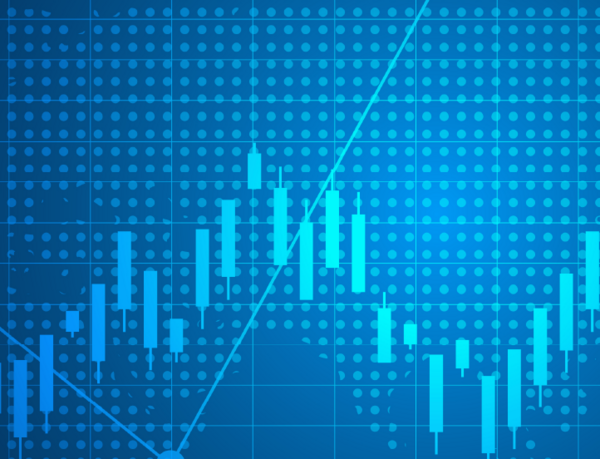 New York, NY - April 21, 2021 - Mediaocean, the mission-critical platform for omnichannel advertising, today published proprietary media spend data showing how major advertisers have responded to the pandemic and societal shifts in the past year. 
Using aggregate data from its closed ecosystems optimization solution (formerly known as Scope by 4C), Mediaocean sampled over 300 advertisers with a collective ad spend of over $3 billion across Amazon, Facebook, Instagram, LinkedIn, Pinterest, Snap, and Twitter.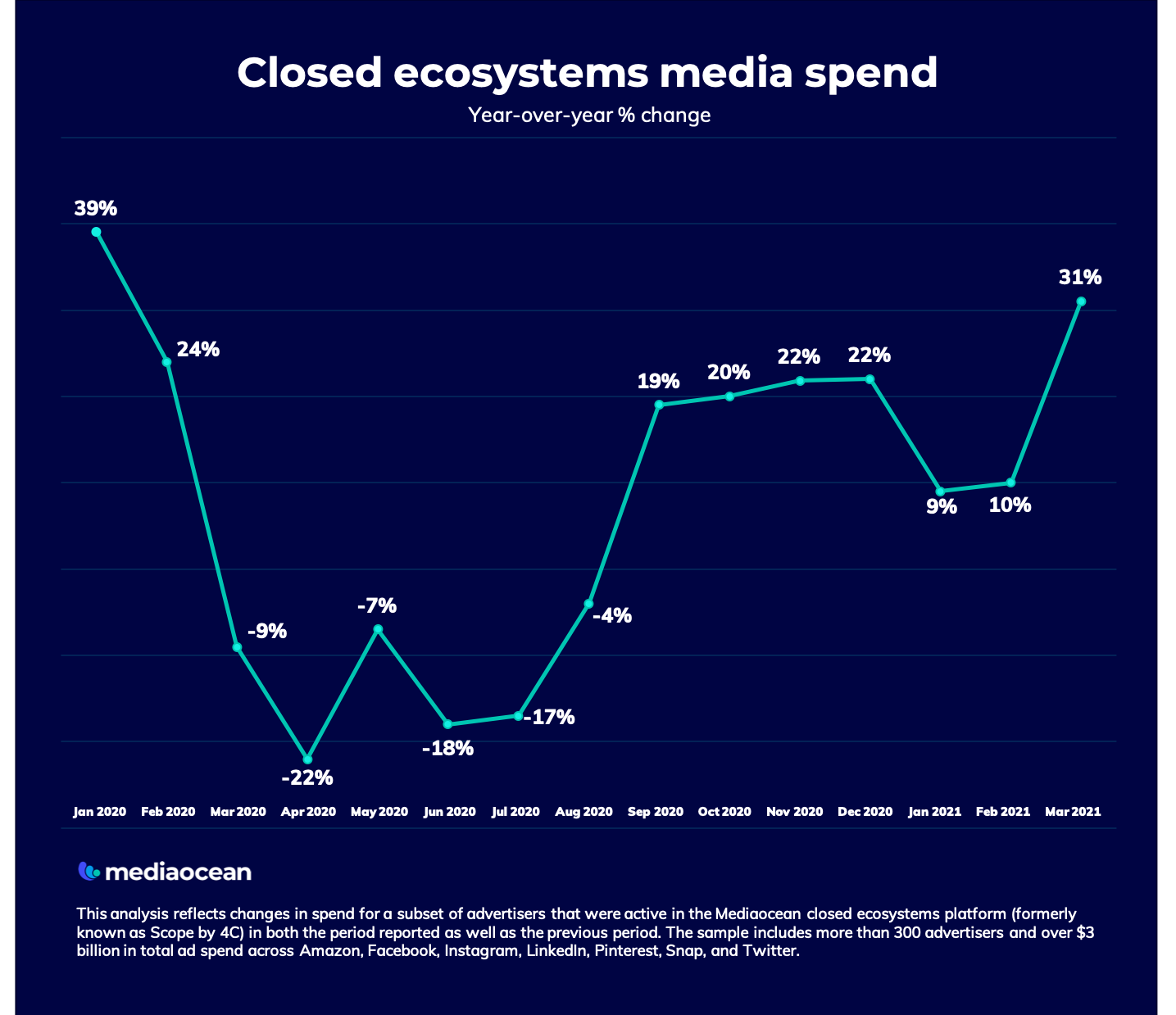 View the complete closed ecosystems media spend infographic for UK and US. 
2021 highlights 
March of 2021 saw a jump of 31% over 2020's figure, equating to a 19% growth versus March 2019 and representing the strongest year-on-year growth since January 2020. 
At the start of 2021, alongside the inauguration of U.S. President Biden, the traditionally quieter months of January and February showed modest annual growth of 9% and 10% respectively. 
"This recent growth is partly about renewed business confidence, but it also shows how advertisers are placing yet more focus on closed ecosystems," said Aaron Goldman, Chief Marketing Officer, at Mediaocean. "It's important to remember that, as marketing budgets are opened up, we're not returning to a pre-pandemic normal. Consumers have been heavily reliant on digital and social commerce for the last year and tuning in to streaming media for news and entertainment. Smart businesses will be investing to ensure that they have the data to track these behavioral shifts, are agile enough to adapt to them, and ultimately make sure that they're selling where buyers are buying."
2020 analysis
While March usually sees a month-on-month increase, as companies emerge from the post-holiday lull, spend in March 2020 decreased 1% on February, and was down 9% year-on-year, as the full reality of the pandemic became clear. This was followed by year-on-year contractions of 22% and 7% in April and May, respectively.
The steep fall in April followed a month in which, due to the pandemic, the FTSE 100 and S&P 500 dropped by 15% and 16% respectively. However, this was not the only factor impacting ad spend over the year. 
In June and July, as many countries began to flatten the curve of the first coronavirus wave, advertising boycotts in response to global BLM protests contributed to 18% and 17% year-on-year drops. 
Towards the second half of 2020, brands outspent compared to the previous year, using marketing budgets which were held back until businesses regained confidence. This was especially clear through the golden quarter, with advertisers spending over 20% more on the platforms compared to 2019 from October to December. Overall, aided by a strong two months of spend prior to the pandemic, 2020 finished 6% higher than 2019.
Goldman adds, "We're looking back on an incredibly tumultuous year for businesses, during which marketers have had to balance financial cautiousness with innovating new routes to the consumer, all while reacting to an unpredictable and risk-laden media cycle. Throughout, we've highlighted the opportunity to rethink media buying and taking an omnichannel approach to communication with customers. It's good to see that the industry agreed, making back lost ground in the second half of the year."
The Mediaocean analysis suggests an economy with pent-up energy, keen to stimulate consumer confidence and renewed growth as the world begins to see a route towards the end of the crisis. The first like-for-like comparison since the pandemic started shows a resurgence in marketing investment.
This analysis was conducted on advertising running through the Mediaocean closed ecosystems platform acquired via 4C. With the company's recently-announced unification of its platform, campaign optimization on closed ecosystems has been integrated with digital and traditional media management to enable holistic omnichannel advertising. The platform is driven by Mediaocean's omnichannel data warehouse, a single source of truth that synthesizes data from disparate sources and normalizes it against a standard taxonomy.
About Mediaocean 
Mediaocean is the mission-critical platform for omnichannel advertising. With $150 billion in annual media spend managed through its software, Mediaocean connects brands, agencies, media, technology, and data. Using AI and machine learning technology to control marketing investments and optimize business outcomes, Mediaocean powers campaigns from planning, buying, and selling to analysis, invoices, and payments. Mediaocean employs 1,200 people across 20 global offices and is part of the Vista Equity Partners portfolio. Visit www.mediaocean.com for more information.