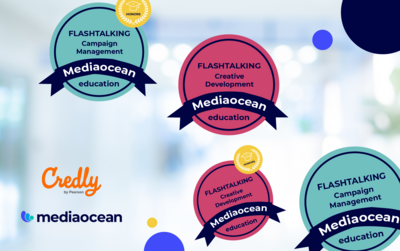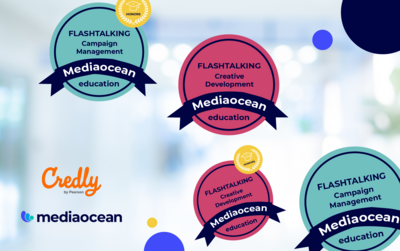 Credly-verified Flashtalking badges now available for campaign management and creative development 

We're proud to help develop digital proficiencies at scale and build a new class of credentialed professionals.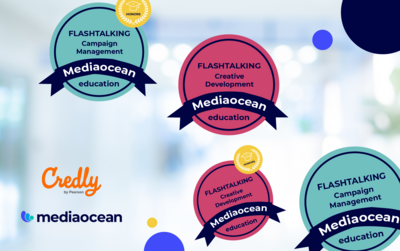 Establishing and growing digital skills is vital to the long-term success of the advertising industry. Our newest learning initiative is designed to educate, recognize, and celebrate the partners, customers, and team members who are mastering key competencies. 
We're pleased to offer new credentials to our Flashtalking clients in the form of skills and knowledge badges, verified by Credly, which learners can attach to their social media profiles and email signatures. Four new badges are now available: 
A continuing education in ad technology 
It's important that we all keep learning, even those of us who've been in the industry for a while. Digital skills are vital in an increasingly digital world, so we've partnered with Credly to enhance our Mediaocean Education Program, track progress, and measure the impact of continuing education on business results. 
Official Flashtalking badges will be issued upon a learner's completion of carefully defined coursework, which includes both live and eLearning content. A Credly-verified badge confirms the validity and authenticity of the achievement and alerts the earner's entire professional network of newly acquired skills and knowledge. 
While the standard certification is available to anyone, those with access to the Flashtalking environment can complete and submit an in-platform project to achieve standard and honors versions of our Campaign Management and Creative Development badges. The honors designation is the highest level of achievement available from the Mediaocean Education Program. 
Verified digital credentials transform organizations 
Credly is the most widely known credential-verification service, issuing millions of badges every year to learners and servicing companies as diverse as Apple, Aetna, and Kellogg's, as well as government, academic, and military institutions. LinkedIn requires that credentials added to a profile be verified by a service like Credly. 
We're proud to help develop digital proficiencies at scale and build a new class of credentialed professionals who can help drive innovation in our field. 
For more on our partnership with Credly, check out our recent press release.