Quadrant Knowledge Solutions recognizes Mediaocean as a Leader
The 2023 SPARK Matrix™: AdTech Platform report by Quadrant Knowledge Solutions is a comprehensive analysis of the current state of the AdTech platform market. It assesses the features and capabilities of leading platforms and helps businesses make informed decisions about their AdTech investments. 
Vetted alongside 20 global providers, Mediaocean has secured Leader status for Technology Excellence and Customer Impact. According to QKS analysts, we offer a complete industrial solution which is widely trusted and preferred by end users across the globe.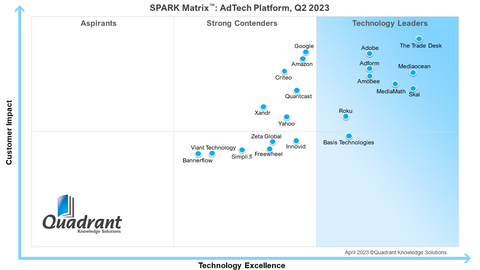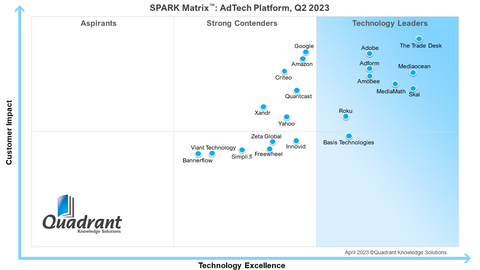 Read the report
Explore the 2023 SPARK Matrix™: AdTech Platform report to see the assessment of Mediaocean as well as detailed profiles on Adform, Adobe, Amazon, Amobee, Bannerflow, Basis Technologies, Criteo, Freewheel, Google, Innovid, MediaMath, Quantcast, Roku, Simpli.fi, Skai, The Trade Desk, Viant Technology, Xandr, Yahoo, and Zeta Global.
According to Quadrant Knowledge Solutions, advertising technology refers to "the set of software tools and technologies for planning, executing, automating, and managing digital advertisements across digital channels, including search, social, display, OTT, mobile, video, and others to optimize ad campaign performance."
Key capabilities covered in the report: Programmatic Media, Buying & Planning, Ad Serving, Campaign Management, Data Management Solutions, Omnichannel Media Management, Advanced Reporting & Analytics.
Fill out the form to access the report. Any personal information you choose to share with us via this website will be handled in accordance with our privacy policy.
Thank you for your interest. Your download will begin shortly.