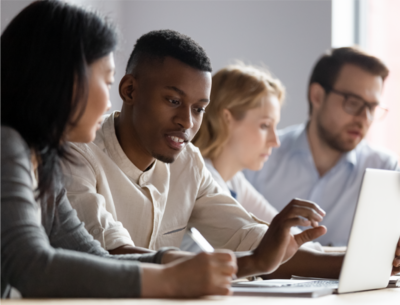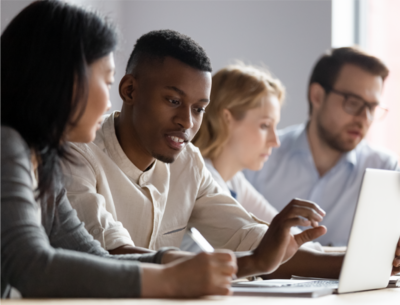 Mediaocean intern feature: virtual summer experience

Sammy Ford, Zack Tamuzza, and Grace Rocco, reflect on their intern experiences this summer.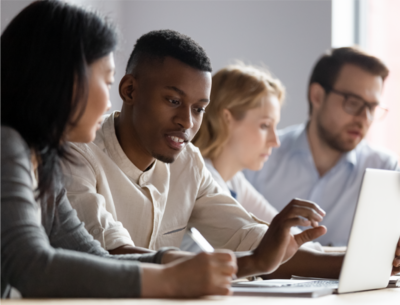 Congratulations and thank you to all of our summer interns for your hard work and dedication! Here are three featured blogs from Sammy, Zack, and Grace, highlighting their intern experiences this summer.
Staying a student
by Sammy Ford
With each passing day of my final semester in undergrad, my panic for the future only grew. I wanted so desperately to be able to post my new, full-time position on LinkedIn and collect the likes and "congrats on the new role" comments from my peers. It was my definition of success. But as I applied to positions that (on paper) I was qualified for, I couldn't shake the voice in my head telling me I wasn't ready. I worried that I didn't know enough, that I didn't have enough experience; my fear of being the weak link at my first "big girl job" was overwhelming. We all deal with doubts and fear of failure and, generally, I'm not one to succumb to those feelings. This time though, I decided to change course and keep learning. It was the best decision I could have made.
Forgetting about titles
As I watched my classmates receive full-time offers from great companies, I kicked myself for allowing my fear to get in the way of my potential. Why had I thought that I wasn't ready? I should have just taken the risk like everybody else. I felt simple and inferior when those starting in marketing agencies and law firms asked me what my plan was. I thought an internship was beneath a college grad.
But when March and April rolled around, those full-time offers I was so envious of started to get pulled away. People I admired were furloughed, companies closed, my friends and classmates were left scrambling to piece their career plans back together. Never in my life has my mindset shifted so suddenly.
I quickly realized how entitled my thinking had been. Not only was the opportunity to advance my career still on the table, but as an intern, my learning and growth would be invested in. I would have a mentor guiding me to gain the experience I feared I was lacking. I felt so fortunate not only to be employed, but to be working in alignment with my original career goals. Not many other 2020 graduates get to say the same right now.
I've learned that any opportunity to progress, to grow, to develop skills, to learn is a step closer to success. Whether my title is student, intern, assistant, manager...it doesn't matter. There is always a lesson in anything we do. So, before I even started here at Mediaocean, my perspective on career goals and my definition of success had shifted significantly for the better. I can't thank the Mediaocean team enough for committing and investing in their interns this summer.
A healthy skepticism
Part of my initial entitled perspective was rooted in my unwavering belief that my education was wholistic. I believed (or wanted to believe) that by graduating college I was now an expert in marketing and creative writing—that my school had taught me everything I would need to know. How wrong I was.
Mediaocean does an incredible job of educating and training new employees. With every Learning & Development session, I realized how little I actually knew. I took extensive notes and worked tirelessly to commit the ins-and-outs of the advertising industry to memory. I cursed my college for letting me leave without knowing it.
But by putting in the work to learn what I thought I should have already known, I realized that it is impossible to be completely prepared for anything. I should never assume to be an expert or believe that my knowledge on a subject is complete. There is always more to learn. So, through the "extra" time I put in, I learned to be skeptical of what I think I know. I must be confident in what I do know, but it's just as important to question and consider what I don't—another valuable lesson I'm excited to apply to my life and career.
Being unfinished
From June to August, I have grown a tremendous amount. I learned things about myself I would have never acknowledged and gained a perspective that I am proud to see the world through. I worked on some exciting projects (my favorite being blog posts ;) ) and developed my skills in research, thought leadership, sales enablement, presenting, and remote communication. Most importantly, however, I learned that no matter how high I rise or how far I go in my career, I will always be unfinished. And that's exactly how I want to be. I will continue to learn from others and seek out opportunities for growth. Leaving titles and connotations behind, I will always be a student.
Thank you Mediaocean for dedicating so much time and effort into your interns. I had incredible mentors (thank you Marketing Team!) and have never felt more valued and appreciated than I have while working here this summer. It is truly an amazing feeling. I now feel more knowledgeable, more comfortable, and more eager to take my experience here and translate it into a full-time career. I cannot thank you enough for quieting that inner pessimist. Cheers!
---
Expectations versus reality
By Zack Tamuzza
When I first received word that I got accepted into Mediaocean's internship program, I was ecstatic. However, not long before, I had received the worst news of 2020: The world had entered a global pandemic. For me, this meant I had to go back to the USA from my abroad program in Madrid. Ouch. After learning how much this pandemic would affect people's lives- my mindset was bad. After seeing everything around me be taken away, I anticipated this internship to be next. I expected the internship to be done remotely, but I didn't expect to learn too much from the "comfort" of my own home. Being constricted to my room instead of traveling to New York City was torture. I didn't expect to make genuine connections. I didn't expect to work with teams. I didn't expect to learn all about the advertising industry from my room. Thankfully, these expectations were crushed. My internship taught me a lot while getting me excited for what's yet to come.
Ins and outs of an industry
I wish I would have known how crucial the software side is to the advertising industry, because I now know it's just as important as the agency side. The number of players that are connected for this process to be successful is undervalued. From the implementation team to the operations team, each team contributes to creating a successful advertisement. I learned all of the different pieces that allow a company to function is just as important as the final product itself. Additionally, I wish I knew how much knowledge Mediaocean employees have about the Advertising industry as a whole. I expected them to know much more about the software side of advertising. I quickly realized all of the employees have a broad knowledge of what happens on both sides of advertising because it allows them to understand their role in the process. In summary, know both sides!
Self-sufficiency
I never knew that people could push me to be better from across a screen. I'm the type of person to complete an assignment long before the deadline. I guess you could call it anti-procrastination, I call it anxiety! I learned when people are not in my presence, they can still push me. The people around me taught me the importance of self-sufficiency, even if I don't have to prove it to others. Having this skill is valuable if the people around you lack the type of energy to stay motivated. Another thing I learned is you have to approach each new experience as if you are an ever-growing sponge. There is always knowledge accessible for you to absorb. If you think you have absorbed enough knowledge, you need to think again. There is always more knowledge to absorb. Always assuming you don't know everything helps absorb the knowledge you have access to.
Personal growth
Personally, I learned that it doesn't matter which company I go to work for. Mediaocean taught me even from a computer screen, the company culture can be happiest anywhere. I realized companies that promote personal growth like Mediaocean are most important to me. They promoted this growth by pushing me outside of my comfort zone. We all hate doing it, but it's essential to grow. For me, it was gathering insights for the account team. I've always hated insights because I never understood them. Then I learned, I have to keep asking myself why until there are no more answers. This task pushed me outside my comfort zone, which helped me to further my research skills and overcome my big fear of finding insights. We all need to be pushed like this because when you are wrong about something, you shouldn't rest until finding out why you're wrong. 
Moving forward
Finally, the biggest career tip I've learned is that what you study in college doesn't mean diddly squat. I study advertising, a very specific major in college. Many people at Mediaocean had no idea they would be working in software, let alone advertising software. They arrived where they are today because of their experiences in similar roles. Additionally, they all bring something to the table and provide value for the company in some way, shape, or form. What did this internship teach me exactly? It taught me that what you study doesn't determine what you will end up doing. Everyone I met here paved their own path if the role allowed them to thrive and be happy. That's the secret to paving your own path. Overall, I will use this knowledge when making decisions about my career down the short road I have left in my final semester at Syracuse!
---
The takeaways from my internship experience
By Grace Rocco
I'm Grace and I am a rising sophomore at the University of Maryland. I am currently double majoring in Operations Management and Business Analytics, and Finance. This summer I was a Lumina Intern at Mediaocean and I think this is an experience everyone should have.
I came into the Lumina Internship with minimal prior knowledge on the ad tech industry but was fascinated by it and eager to learn. I can confidently say now that I've learned more about the industry and different career types from this experience than I ever thought I would. My understanding of Mediaocean's products and people have also outmatched my expectations.
Learn the building blocks
During one of my internship projects I was told by an interviewee that you have to understand the ad industry and its workflow/process before you can fully succeed in your role at Mediaocean. This interviewee was right. Not only did my internship program set us up for that success, but that advice is something I will take with me through all future opportunities.
Advice from across Mediaocean
I was provided with many additional tips throughout my internship. This helpful advice span from present, college-oriented tips to future, career success tips.
One piece of advice that stood out to me was to learn to advocate for yourself. This tip was a turning point for me in my internship. Once told this, my mindset changed from a nervous state to a confident one. I realized that I should be confident in the hard work I've put into something instead of being nervous about how other people might react to it. Of course there is a balance you must find with your confidence level, but I think my work actually improved once I changed my mindset.
Another piece of advice that stood out to me was to know your audience. This tip not only applies when you are communicating with someone orally. I realized that you must also know and understand your audience when you are submitting a project, report, etc. to them. It's a key skill to be able to cater your work to the person receiving it, so it is not only easy for them to understand but also because the information needs to be beneficial to their particular role/job position.
Backward learning to move you forward
Self-learning played a big role in this internship for me. I learned about learning. That sounds like a grammatically incorrect sentence and it probably is, but my point is I learned that I learn best in an environment where I am part of the action. The times I absorbed the most information was when I was put into client or internal meetings, and was able to do a post-meeting analysis to understand what had just happened in that meeting. This analysis included asking questions about things I didn't understand, reviewing my notes and resources, and using keywords from the meeting to search for LinkedIn learning videos. This "backward" method of learning was something I had never really encountered prior to this internship but it is definitely a method I intend to stick with going forward.
Expand your horizons
My goals, both personal and professional, have evolved based on the feedback and advice I've gotten from this internship. Coming into my freshman year at college, I looked at the business world in a very narrow view. My interests from high school were the driving force in the clubs I joined and events I went to my first year. After shadowing different departments and completing various projects throughout this internship, I realized that the narrow view I was looking through was not the path I should continue on.
Because of this, my personal goals have expanded to include developing skills needed outside of my current interests in career choices. My professional goals have come to include learning about all areas of business, instead of just becoming an expert on the one I'm currently interested in.
Thank you Mediaocean
This internship was good because I found the ad tech industry fascinating. But this internship was great because it was at Mediaocean. The self-improvement, realization, and reflection that I got out of this internship was because of the company it was at. I am grateful to have had this amazing opportunity and thankful to all the people at Mediaocean who have made this experience not only good, but great.