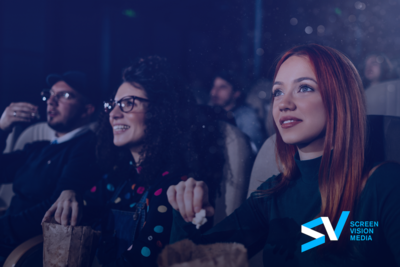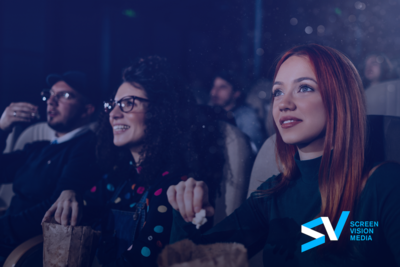 Partner Spotlight: Moviegoers Return to Theaters and 2023 Domestic Box Office to Hit $9 Billion

Top Gun: Maverick and Black Panther: Wakanda Forever reminded audiences of the magic of cinema.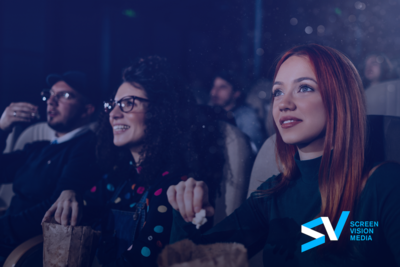 Screenvision Media is a national leader in the cinema advertising industry, helping brands reach the coveted moviegoing audience for over forty-seven years. With more than 13,000 screens across 2,200+ theatres, Screenvision's robust network delivers both national scale and deep penetration into regional and local markets. In addition, the company's newly expanded Digital Lobby Network, featuring more than 1,400 premium lobby screens, engages moviegoers as they enter and leave the theatre, allowing brands to make the first and last impression with them. In the auditoriums, Screenvision's custom "Front + Center" pre-show leverages the full power of the 40-foot screen in the most immersive environment in media. Phones off, lights down – there truly is no other medium that delivers such a captive and engaged audience. 
After a milestone 2019 Box Office, the pandemic delivered a devastating blow to movie theatres across the country, which were forced to shut down by various municipal mandates. Fortunately, the century-old industry is experiencing an historic comeback. The 2022 Box Office saw a slew of major blockbusters, including some record-breaking releases. Top Gun: Maverick reminded audiences of the magic of cinema, landing the largest Memorial Day opening of all time ($126M), while Black Panther: Wakanda Forever scored the #1 November opening of all time with $181M. That said, the biggest story was Avatar: The Way of Water, the long-awaited sequel to James Cameron's 2009 blockbuster. With a $134M opening weekend and a whopping $2.2B global gross to date, Avatar 2 now ranks as the third highest-grossing film of all time.  
The numbers don't lie – moviegoers are back in force and the future looks bright. Movie studios understand this too, as they have all reverted back to the theatrical release model after briefly experimenting with a hybrid streaming/theatrical approach. There are 45 tentpoles slated for 2023, 20% more than in 2019 and double that of 2022. With plenty of prime content on the horizon, 2023 promises to be a milestone year for Screenvision and for the cinema industry.  
Though cinema remains Screenvision's core competency, the advertising landscape naturally evolved during the pandemic. In line with these market forces, Screenvision Local pivoted to an omnichannel model that better reflects the shifting behaviors of the modern consumer. When most theatres were shuttered, Screenvision Local launched a brand-new initiative called "Front + Center Everywhere" (FCE).  
Leveraging partnerships with a team of external affiliates, FCE is a unique audience-based digital network that allows brands to extend cinema campaigns across multiple touchpoints, providing a 360° approach to reaching moviegoers anytime, anywhere. Research shows that 84% of moviegoers visit other businesses before or after seeing a movie. FCE's integrated campaigns reach these active consumers at the theatre, in the streets, and at home, thus boosting purchase intent.  
FCE's strategic alliances grant advertisers access to premium video inventory in bars, restaurants, doctors' offices and sports entertainment venues. Additionally, the FCE network includes proprietary mobile and OTT/CTV platforms which retarget moviegoers at home and on their personal devices. 
Leveraging the strength of its FCE Network, Screenvision offers a unique and powerful opportunity to build an omnichannel campaign that is optimized for the modern media landscape. As traditional channels have declined in effectiveness, cinema has remained stable, a testament to its one-of-a-kind position as the most captivating environment in media. Through the 40-foot screen, the Digital Lobby Network, OTT/CTV and mobile marketing platforms, Screenvision connects brands with the moviegoing audience at every step of their daily journey. Learn more about how Screenvision delivers results for national, regional, and local brands by visiting www.screenvisionmedia.com. 

This post was written by Gerald Griffin, Chief Revenue Officer, Local & Regional Sales at Screenvision Media and is part of a new Partner Spotlight series on the Mediaocean blog.