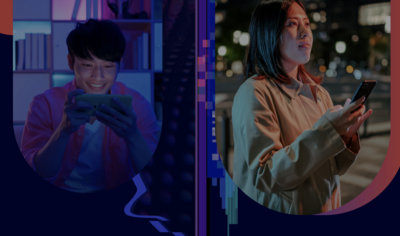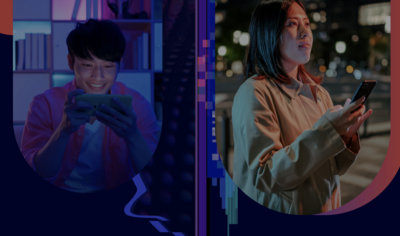 TikTok, influencers, and how to maximize your video opportunities

Not only can brands drive engagement with authentic content, but strategic storytelling also saves on production costs and can result in priceless UGC.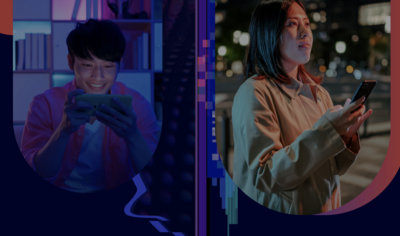 Let's talk video. 
Video's growth far outpaces growth across other digital channels. Social video is growing 50% year over year, so naturally brands are racing toward short-form video content. 
TikTok's success in its video-first approach gives savvy brands unprecedented reach and the ability to convert users into customers at scale. (Look no further than the trend #TikTokMadeMeBuyIt.) 
Video is transforming the advertising space  
While there's still a big audience for linear TV, our generational shift is transitioning attention to connected TV and social media. Social's growth is driven by the emergence and strength of video. 
Short-form video has the highest ROI of any social media marketing strategy 
Short-form video ranks #1 for lead gen and engagement  
Marketers have invested in short-form video more in 2022 than any other format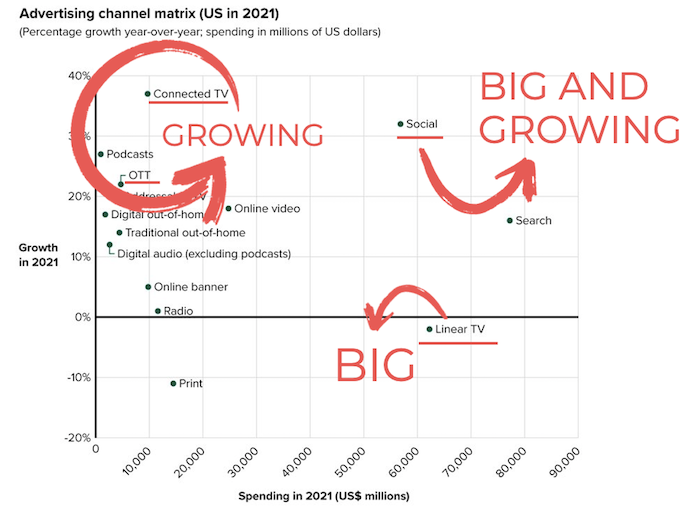 Video accounts for 50% of time on social  
That's right – half the time spent on social media is spent watching videos and that figure is only expected to increase. The main reason TikTok is winning is its ability to keep users engaged for longer periods of time. 
YouTuber: now spending 15% more time on YouTube compared to 2019 
TikToker: now spending 63% more time on TikTok compared to 2019 
The amazing ascent of TikTok 
It's impossible to deny TikTok's impact on advertising. The key to TikTok's growth has been its increasing allure among Gen Z and Millennials, who make up 80% of its user base.  
TikTok has been pulling younger users in and, with attention and time spent increasing, advertisers continue to pour in, just as they did when media consumption moved from desktop to mobile last decade. The app is cementing itself as a dominant cultural force at record breaking speed.  
The emergence of influencers  
Traditional media has typically been dominated by creative agencies, brands, and journalists. Social shifted that model by enabling everyone to share, comment, and engage with their communities. With the emergence of influencers, another shift is well underway. 
We inherently trust real people over brands, and this has shaped the idea of the "creator economy." We've entered an era marked by new forms of content ownership and a renaissance for creators and entrepreneurs. We're collectively "sharing experiences" and new digital realities.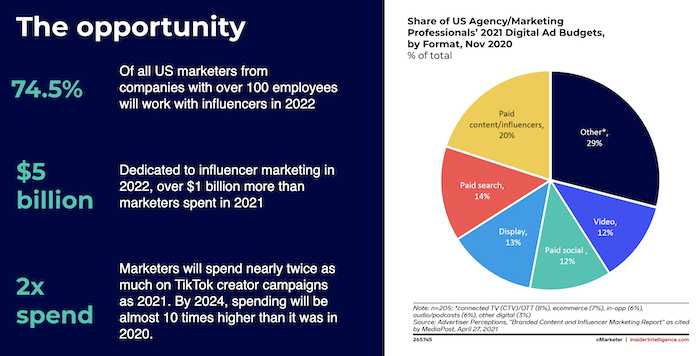 With the rise of everyday influencers, the opportunity for advertisers is enormous. Budgets are being shifted to creators as a vital part of media plans. 
Short video + creators are reshaping the advertising landscape  
We've learned to lean on data and measurement as metrics of success, but to be truly effective in this new environment, it's about combining art and science, and this is where creators come in.  
Creators plug into trends and stay tapped into culturally relevant events around the world. As brands allocate resources toward creators, their business goal is to stay focused on organic, video-first content.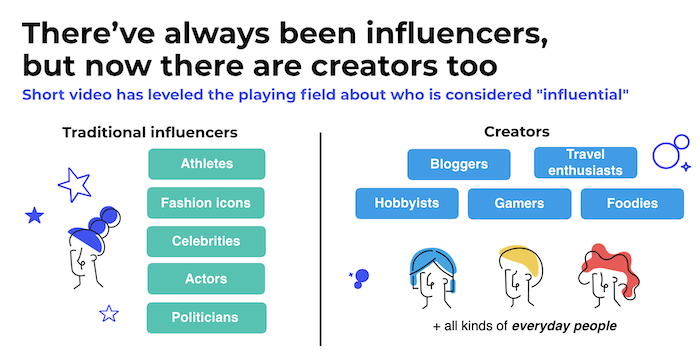 The pandemic created a boom in creator content, and we've seen the playing field become more democratized. Influencers are no longer limited to high status athletes, fashion icons, the Kardashians, or the elite. What we once saw as a polished, one-way monologue with influencers is now shifting toward creators and a two-way dialogue.  
Creators can connect on deeper levels – remember, people buy from people – and 71% of TikTokers say creators motivated them to purchase.  
Strategies for brands to leverage short form video 
The concept of brands as storytellers is powerful. Not only can brands drive engagement with authentic content, but strategic storytelling also saves on production costs and can result in priceless UGC. 
People want to create, participate, and feel connected to the brands they love. When brands rally together with their consumers, they can produce content which satisfies all those needs. 
Brands can also look to harness viral video trends. Trends ensure brands stay relevant with their fans and are great for engagement and virality.  
Big brands are beginning to look to video to drive purchases, downloads, and accomplish other bottom funnel activities. In short, creators drive business, but it's critical for brands to understand the best ways to collaborate to see results.  
With short-form content lending itself well to native advertising, brands can create videos that are much more likely to generate conversions.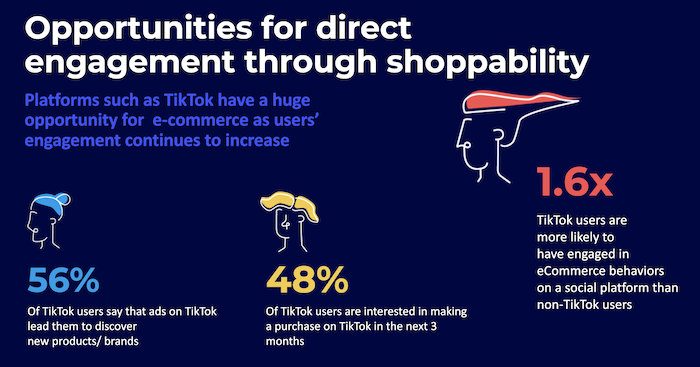 Other opportunities in social video 
Of course, TikTok is not the only place where short-form video is thriving and influencers are having an impact. YouTube recently announced a revenue-sharing option for Shorts that lets creators in their Partner Program earn a percentage of ad revenues. This is YouTube's latest attempt to turn its long-form video platform into one that also houses short-form content. Users can create Shorts up to 60 seconds and edit the videos directly within the app.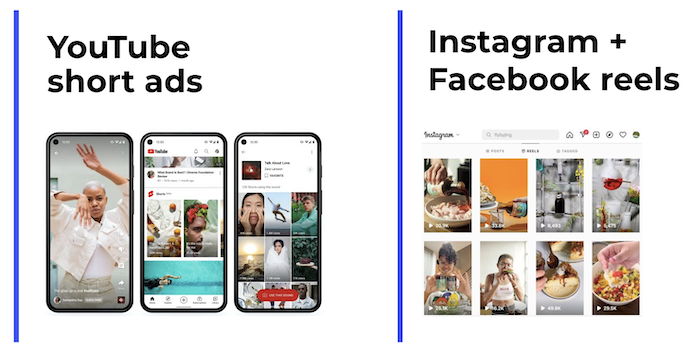 Instagram and Facebook are placing greater emphasis on their Reels format (even though viewers currently watch Reels 11 times less than TikTok videos).  
With over one billion active monthly users, Instagram already has consumers' attention. When they launched Reels back in August of 2020, it became another marketing tool for brands, and a worthy opponent for TikTok. Keep in mind: Instagram caters to a broader age demographic than TikTok.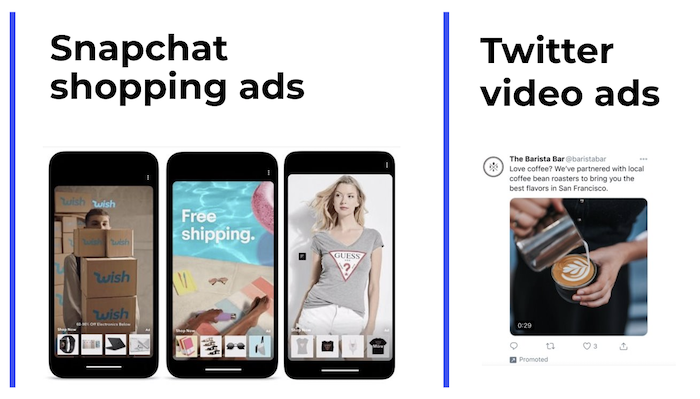 Snapchat is following suit with its new "Spotlight" feature, which allows publicly visible replies to short videos. Spotlight is Snap's answer to TikTok's popularity and Instagram's Reels. 
And Twitter recently announced a new immersive media viewer to make it easier for users to discover engaging videos. It'll be interesting to see how this develops under Elon Musk's leadership.  
Conclusion and key takeaways for brands 
For 2023, social video is where it's at. 
Meet your users where they are.  
Tailor the content to the platform and constantly measure results.  
Keep an eye on how consumers are spending their time and communicating on social media. 
Test content on your social channels to see what resonates. 
Position your ad strategies for the continuing "TikTok-ification" of social media, and get ready for a merger of video, creators, and commerce.