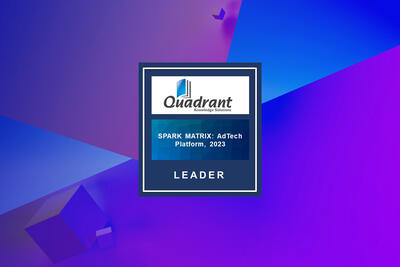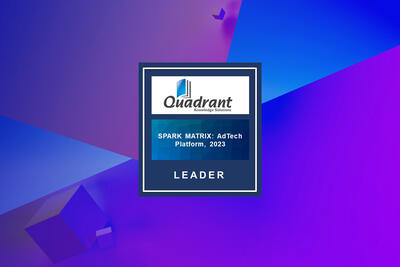 Mediaocean positioned as Leader in 2023 SPARK Matrix for AdTech Platforms by Quadrant Knowledge Solutions

Research includes a global market analysis, competitive landscape, functional capabilities, and market trends.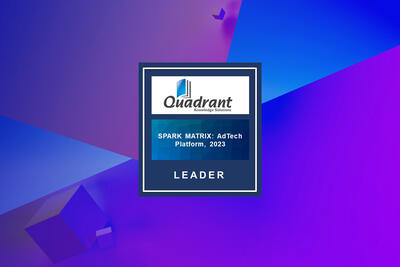 The Quadrant Knowledge Solutions SPARK Matrix™ provides competitive analysis & ranking of the leading advertising technology (AdTech) platform vendors. 
Mediaocean, with its omnichannel technology platform, receives strong ratings across the parameters of technology excellence and customer impact. 
April 2023: Quadrant Knowledge Solutions announced today that it has named Mediaocean as a 2023 Leader in the SPARK Matrix analysis of the global AdTech Platform market.
Quadrant Knowledge Solutions' AdTech Platform market research includes a detailed global market analysis, competitive landscape, functional capabilities, and market trends. It aims to provide strategic information for technology vendors to enhance their understanding of the market and support their growth strategies by evaluating different vendors' capabilities, competitive differentiation, and market position.
According to Prakhar Bansal, Analyst, Quadrant Knowledge Solutions, "Mediaocean's AdTech platform offers an omnichannel advertising solution that enables advertisers to coordinate and manage various ad serving across multiple channels, formats, and devices. The platform offers comprehensive AdTech functionality through Flashtalking along with ad infrastructure solutions including Prisma, Lumina, Ignitia, Aura, and Spectra. The company's AdTech platform continues to deliver value to its customers through its key technology differentiators including integration with connected media channels, advanced analytical tools, identity resolution, and other features to drive improvements in campaign performance". Prakhar added: "With its support for a broad range of use cases, ease of deployment and customer service excellence, Mediaocean has retained its leadership position in the global AdTech market."
Ben Kartzman, Chief Operating Officer at Mediaocean said, "We are honored to be named a leader in the AdTech platform category by Quadrant Knowledge Solutions. This recognition is a testament to the hard work of our teams and partnership with our clients. We continue to invest in Flashtalking by Mediaocean to provide the leading global independent primary ad server and personalization technology. Our aim is to support clients at the crossroads where data, personalized creative and unbiased measurement intersect with expertise, service and a deep partner ecosystem to drive successful digital marketing." Ben added: "As the omnichannel imperative for advertisers and agencies continues to take hold, we have expanded our dynamic creative optimization and activation capabilities within Flashtalking to incorporate social platforms. We are also strengthening the integrations between Flashtalking and Mediaocean's scaled ad infrastructure products to enable AI and automation that meets the moment for our industry."
Quadrant Knowledge Solutions defines advertising technology (AdTech) Platforms as a "set of software tools and technologies for planning, executing, automating, and managing digital advertisements across digital channels, including search, social, display, OTT, mobile, video, and others to optimize ad campaign performance. Ad Tech often includes a variety of analytics tools that enable publishers to increase their advertising revenue and advertisers to optimize ROI through effective campaigns towards reaching the target audience and gathering customer insights. An ad tech platform combines the entire advertising ecosystem that involves buying, selling, tracking, analyzing, and optimizing digital ads and campaign performance. The platform consists of several tools and technologies, including supply-side platforms, demand-side platforms, ad networks, and ad servers."
Additional Resources:
About Mediaocean
Mediaocean is powering the future of the advertising ecosystem through technology solutions that empower brands and agencies to deliver impactful omnichannel marketing experiences. With over $200 billion in annualized spend managed through its software, Mediaocean uses AI and machine learning to control media investments, optimize creative assets, and improve business outcomes. The company's advertising infrastructure and ad tech tools are used by more than 100,000 people globally for everything from planning, buying, ad serving, and creative personalization to campaign analysis, optimization, invoices, and payments. Visit www.mediaocean.com for more information.
About Quadrant Knowledge Solutions
Quadrant Knowledge Solutions is a global advisory and consulting firm focused on helping clients in achieving business transformation goals with Strategic Business and Growth advisory services. At Quadrant Knowledge Solutions, our vision is to become an integral part of our client's business as a strategic knowledge partner. Our research and consulting deliverables are designed to provide comprehensive information and strategic insights for helping clients formulate growth strategies to survive and thrive in ever-changing business environments.
For more available research, please visit https://quadrant-solutions.com/market-research/ 
Media Contacts:
Broadsheet Communications for Mediaocean 
Max Benson
max@broadsheetcomms.com
Quadrant Knowledge Solutions
Riya Mehar
rmehar@quadrant-solutions.com