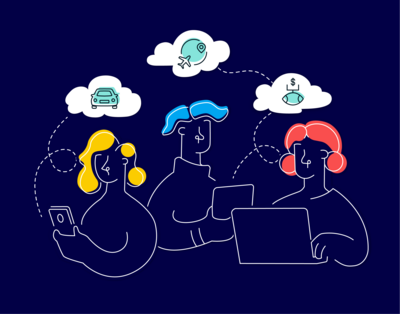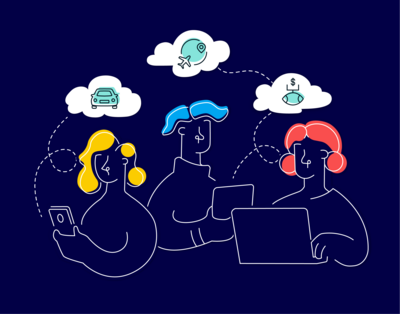 What is vertical marketing?

Vertical marketing helps teams focus on specific industries like travel or automotive. By tailoring strategies to a specific audience, goal and KPI, marketing teams can better understand their customers' needs and in turn, streamline conversion rates.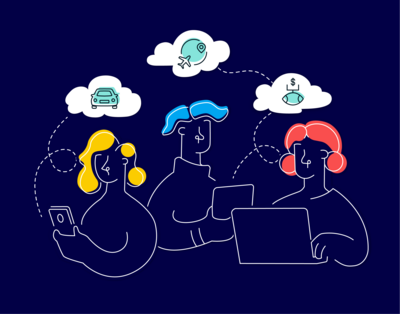 If you're not fully familiar with the term "vertical marketing," you're in the right place. Let us break it down for you and explain how it can help your business grow.  
Vertical marketing definition
So, what is vertical marketing? Vertical marketing is the practice of optimizing your marketing strategy around industry verticals and tailoring it to specific audiences, goals, and KPIs. By focusing on specific industries (like travel or automotive) you can better understand your customers' needs and pain points at each stage of the purchase journey. In so doing, you can eliminate unnecessary steps in the path-to-purchase and streamline conversion. 
Benefits of vertical marketing
Vertical marketing offers several benefits, including: 
You can focus on specific audiences, goals and KPIs.  
With vertical marketing, you can focus on reaching one market at a time. This can help you to define your audience more narrowly and use it to create more relevant content that will resonate with them. 
You can eliminate unnecessary steps in the buyer's journey.  
It's much easier for buyers to make decisions when they clearly understand what they need from the start of the process through completion—and by reducing these steps, your team will be able to convert leads into customers faster. 
You can streamline conversion rates 
Vertical marketing allows you to not only focus on specific audiences, but also ensure every piece of content produced for that target audience resonates with them—and this means more qualified leads are turned into paying customers because there isn't anything else standing between them and their goal. 
Vertical specialization within the marketing ecosystem
Advertisers 
Advertisers are the ones who pay for the marketing. They can be large or small, businesses or individuals, and local or national. In many industries, advertisers have direct relationships with consumers. In some industries, the consumer relationship is held by a third party such as a retailer or other intermediary. 
Agencies 
A media agency is a company that advises brands on when and where to advertise. Agencies are often responsible for creating and placing advertisements, which means they're paid by the client or brand (not the consumer). Creative agencies typically develop the brand assets and ad formats used in vertical marketing campaigns. 
Ad tech vendors 
Ad tech vendors are the companies that provide software and services to help develop and implement a marketing strategy. These vendors help sell a brand's products, target the right customers and measure ROI. They can include media-buying platforms that enable advertisers to purchase ads across multiple channels and analytics tools that help marketers understand how audiences interact with brand content throughout the purchase funnel. 
Publishers
Publishers are the companies that oversee the dissemination of content, both organic and sponsored. They're the ones who own and operate websites, apps, and/or other content platforms where ads can be placed. They help create awareness of new products and services through their promotional and marketing activities. 
Seven sample verticals and their marketing approaches
Automotive: The modern auto customer values a highly personalized experience, with the majority of their buyer's journey occurring online. The opportunity for Automotive Original Equipment Manufacturers (OEMs) is to present a consistent—yet personalized—experience to each customer across all digital touch points using data-driven creative. As customers will choose their own preferred media channels throughout their journey, it's important to incorporate algorithmic multi-touch attribution models that help optimize and measure creative performance. 

Consumer Packaged Goods (CPG): In an era of fragmented media consumption, many CPG marketing teams struggle to deliver a relevant and consistent value proposition to consumers. Data-driven messaging achieves personalization on a mass scale by combining creative production automation with the targeting and personalization of 1:1 direct marketing tactics. Tailoring creative to the customer's interests and telling stories based on consumers' needs in each circumstance make a difference when it comes to sales.  

Financial Services: Convincing customers that a particular brand is the best to manage their money is not an easy feat. And in order to do so, marketers must deliver engaging and relevant ads that are tailored to each customer's unique needs. Whether it's a dynamic video that tells customers a story about your brand, or a personalized marketing message in-app, on the web, or in social, data-driven messaging enables financial brands to build these relationships.  

Retail: The retail industry has seen wild fluctuations in supply and demand since the beginning of the pandemic. Retailers who take advantage of the opportunity to use data to create compelling interactions with their customers will stand out from the crowd. Industry-leading advanced analytics enable you to optimize both your media and creative with the timely insights necessary for today's fast-paced retail environment. 

Sports Betting: The proliferation of mobile devices is simultaneously the gambling marketer's dream scenario and worst nightmare. While it's opened access to new players, it has also transformed customers into chronically distracted multitaskers. Breaking through to these customers with real-time odds in display and video creative powered by feeds can drive greater engagement and conversion.  
Travel: Whether it's inspiring travelers to choose a specific destination or mode of travel, relevant messaging makes a big impact. By considering the user's location, weather and browsing history, feeds-powered creative can help brands break through to the customer and stand out from the competitive environment. Another important aspect of travel marketing is considering all of the interactions a customer has had with the brand. A comprehensive view of the customer's path to booking enables better insights and ultimately better decision-making. 

Video Gaming: Video games had already become mainstream prior to the pandemic. The marketer's challenge is how to deliver the most relevant message to each player within their preferred technology platform, on a global scale. Data-driven messaging enables the video gaming marketer to leverage valuable first-party data and deploy in-market offers across all regions globally. 
Best practices 
Sponsorships 
One of the best ways to reach new audiences is through sponsorships. Branding and marketing experts agree that sponsorships are an effective way to get your brand out there, and when paired with the right vertical, they can be very effective. 
Contextual alignment 
When you're looking to align your brand with content, it's important to find a place that's authentic. You don't want your brand to be associated with something that doesn't fit its values or image. This is why it's so important to present the right message—one that is both relevant and authentic. 
Rewards and incentives 
When it comes to driving action, incentives can be a great way to get people to take the next step. Incentives can take many forms and are based on what your audience wants. Some can be as simple as a discount, while others may be more complex like a sweepstakes or contest. The key is for incentives to be relevant to your product or service; this will ensure that those who participate in your campaign are genuinely interested in what you have to offer and help increase sales overall. 
Finding the right partners for your brand  
By identifying your target audience, you can decide which partners are most likely to help you reach them. This can be done by creating a buyer persona (a fictional character based on actual data), or by using surveys and interviews with real customers. Once you've identified who's most important to your business, it'll be easier to approach potential partners. See how you can connect with different media partners across the media ecosystem with Mediaocean. 
Summary
Vertical marketing is a smart and effective way to reach niche audiences in crowded markets. By partnering with the right brands and publishers, you can create engaging content that resonates with your target audience.  
To get started, think about what you're trying to accomplish with this strategy before deciding how much time or money you want to invest in creating it. Then begin by finding partners who align with your values while also having high-quality content that fits within their verticals (for example: foodies searching for restaurants) along with the agencies and ad tech vendors that can help you deliver high-value omnichannel experiences. 
In today's business world, it's all about finding creative ways to market your products and services. With so many businesses competing for attention, it's important to find ways to stand out from the crowd. One of the very best ways to do this is through personalization and vertical marketing.  
Mediaocean has helped numerous brands from different verticals to map the customer journey across devices and screens (with and without cookies) to produce a holistic view of customer engagement. If you'd like to hear more, get in touch!