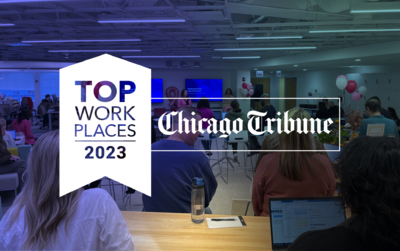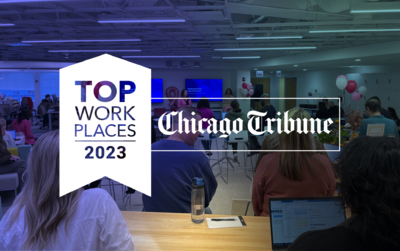 Mediaocean wins Top Workplaces 2023 award from Chicago Tribune

Based on employee feedback, the confidential survey uniquely measured 15 culture drivers that are critical to an organization's success.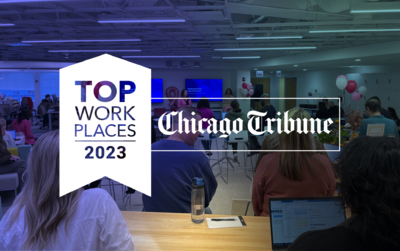 The Chicago Tribune has awarded Mediaocean a Top Workplaces 2023 honor. The list is based solely on employee feedback gathered through a third-party survey by employee engagement technology partner Energage. The survey uniquely measured 15 culture drivers critical to any organization's success: alignment, execution, and connection.
"We want to express our heartfelt gratitude for being recognized as a Top Workplace award winner," said Nicole Brown, SVP People & Culture at Mediaocean. "This achievement is a testament to the collective efforts and positive contributions of each member of our incredible team. At Mediaocean, we take great pride in fostering an environment that values our employees' well-being, growth, and development. This award acknowledges our commitment to creating a thriving workplace and inspires us to continuously elevate our standards."
"Earning a Top Workplaces award is a badge of honor for companies, especially because it comes authentically from their employees," said Eric Rubino, Energage CEO. "That's something to be proud of. In today's market, leaders must ensure they're allowing employees to have a voice and be heard. That's paramount. Top Workplaces do this, and it pays dividends."
This award comes on the heels of several other notable recognitions for Mediaocean. Most recently, the company was awarded The 2023 Top Workplaces USA Award, Ad Age Best Places to Work 2023, Leader in 2023 SPARK Matrix for AdTech Platforms by Quadrant Knowledge Solutions, and Strong Performer for The Forrester Wave: Omnichannel Demand-Side Platforms, Q3 2023.
Mediaocean also received recognition from G2 based on authenticated customer reviews, including Spring 2023 Leader in Cross-Channel Advertising, Mobile Advertising, Social Media Advertising, and Video Advertising. Additional awards from G2 include Best Results Enterprise: Video Advertising and Mobile Advertising, Best Relationship: Cross-Channel Advertising and Mobile Advertising, Most Implementable Enterprise: Cross-Channel Advertising and Mobile Advertising, and Highest User Adoption Mid-Market: Video Advertising and Mobile Advertising for 2023.
Learn more
Please visit our careers page to learn more about Mediaocean's culture, values, and current job openings.