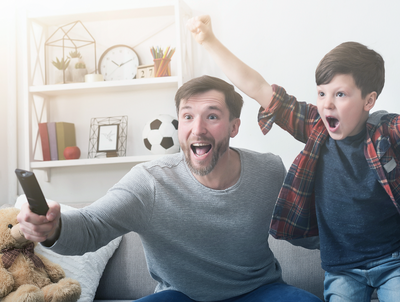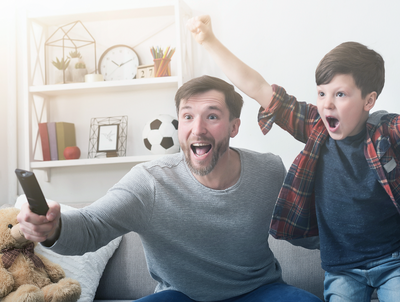 Summer of Sport: Sentiment, ad rankings, and affinities

Positive sentiment is being rewarded online with action and attention. People want to be happy; they want to rally around something that gives them joy. Sports and their affinities give us precious opportunities as marketers.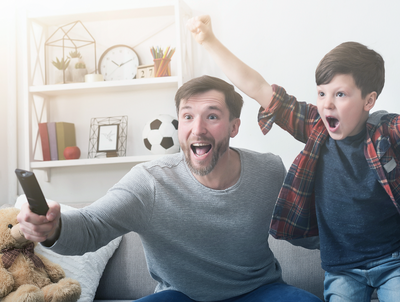 What an exciting Summer of Sport it's been so far! Our entire London office would like to offer a hearty well done to England for reaching the final match of the Euros. Congratulations to Italy for taking the trophy back to Rome.
Our Summer of Sport webinar and companion report both explore some of the challenges and opportunities facing marketers and brands during what was - and will continue to be - a very emotional, eventful, and passionate season of competition.
The Euros shone a well-deserved spotlight on Europe's penchant for drama. We've also enjoyed Wimbledon, the Tour de France, Copa América, and the NBA and Stanley Cup Finals in the USA. Underway now are the Lions Tour in South Africa for rugby fans, the Open Golf Championship in Kent, and of course the Summer Games in Tokyo.
Opportunities for brands, marketers, and agencies
The levels of passion people have for sports and the ways competition bring communities together are golden opportunities for omnichannel advertisers. We've all been through a turbulent 18 months. Sports now provide live entertainment, a measure of relief, and catharsis.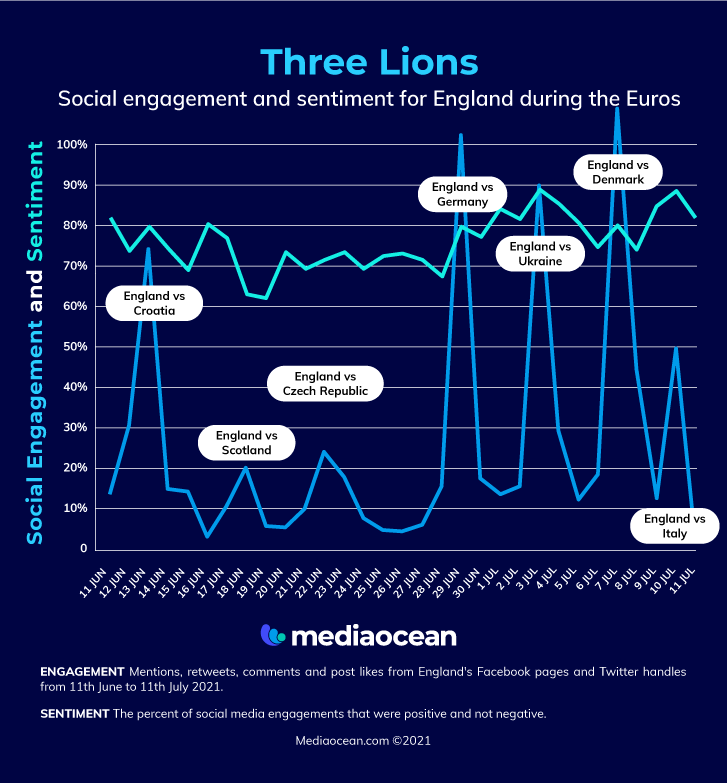 We measured the social engagement and sentiment of both the English and Italian football teams during the Euros. Both teams received more and more attention as the tournament went on, with peak moments such as England versus Germany, England versus Denmark, Italy versus Spain, and the final match. Overall, we saw a lot of positivity for both teams throughout the tournament.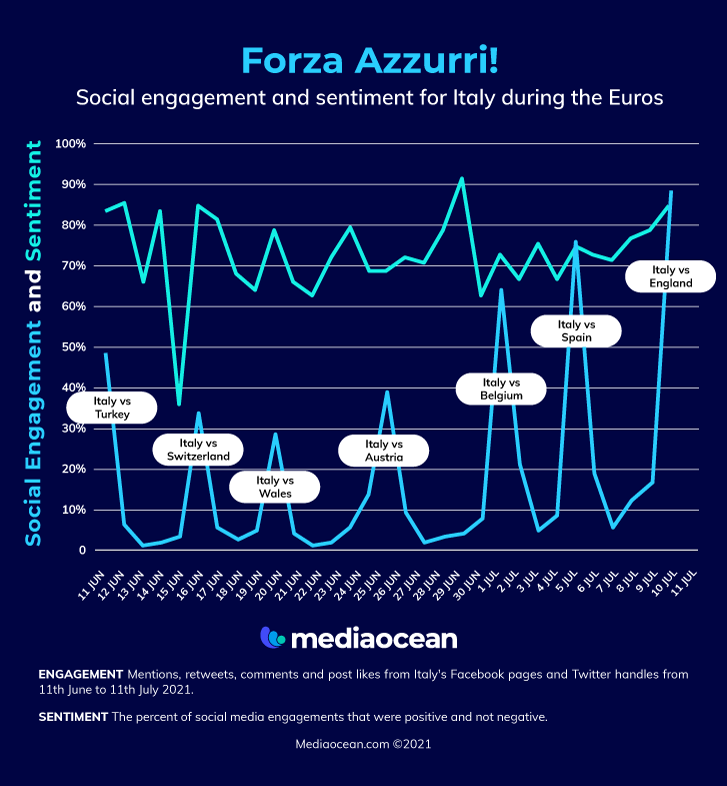 It appears positivity is a dominant trend these days. According to Cal Knight, Head of Global Agency and Platform Solutions at Twitter, "70% of our users want brands to align with joyful content. They want brands to make them feel happy." That's a sign of the times, and the best reactive marketers would do well to heed it. It's also in line with our research.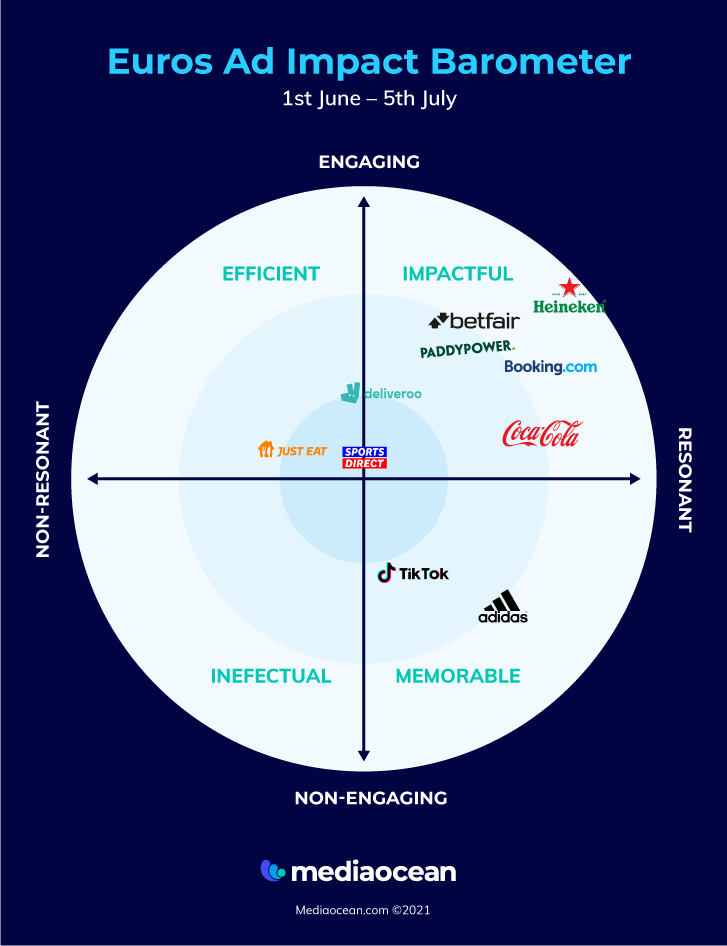 Of the ads that performed best during the Euros, many focused on bringing people together and uniting across borders. (Ads by Heineken and Booking.com in particular.) Positive sentiment is being rewarded online with action and attention. People want to be happy; they want to rally around something that gives them joy. Sports and their affinities give us precious opportunities as marketers.
We've singled out the TV ads which generated the most buzz. By measuring each brand's social media engagement in the five minutes after the start of an ad, and comparing those numbers to the brand's social media engagement in the five minutes prior to the ad airing, we can pinpoint the top 10 ads of the Euros: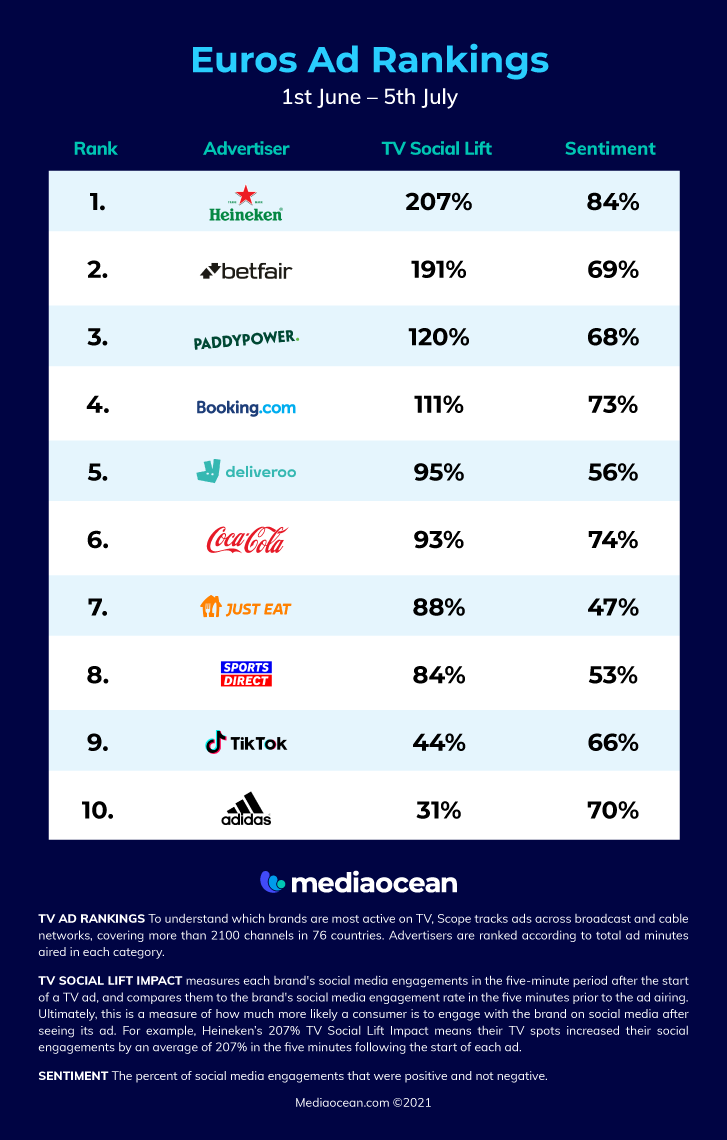 Ads featuring celebrities performed particularly well, like Paddy Power's ad with Peter Crouch, and Deliveroo's with the England team. The power of "celebrity endorsement as strategy" is tried and true, but for the clever marketer, finding unusual and unlikely connections between brands and fans is an exciting and data-driven route to winning gold.
Leveraging affinities
Ahead of the Summer Games, we measured the brands with the biggest audience overlaps on social media via likes, comments and retweets. As you might expect, brands like Puma and BT Sport are closely linked to the Games, as well as Team GB.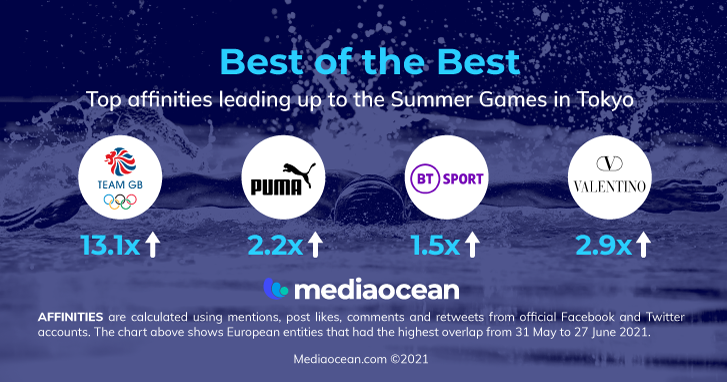 What was surprising was the strong connection between the Games and fashion brand Valentino. Affinities data helps you uncover new audiences, extend your reach, and target the people who are most likely to engage with your product or service. It also gives you the opportunity to find cheaper alternatives to viral topics.
How to really connect with sports fans
Nowadays, the individual is as important as the sport. For brands and marketers, knowing where sports fans spend their time digitally and physically is important, but to really connect, you must go one step further: you need to understand what matters to them, what drives them, and what makes them tick.
Take younger fans, for instance, whose spending power will increase in the next few years. GWI research shows Gen Z responds well to brands who focus on CSR efforts (corporate social responsibility). The research also shows that 58% of 16-to-24-year-olds follow athletes on social media, compared to 21% of 55-to-64-year-olds, which means individual athletes can have a distinct influence. Many of these athletes are bold in expressing their opinions. In short, to win the hearts and minds of the younger set, you must represent their values.
How to be more reactive to real-time events
To take full advantage of online conversations around sport, you need to make scenario plans in advance. The givens: there'll always be a score; there'll always be winners and losers. The more nuanced aspect is tone. How are the fans feeling? And how are you planning to capture the right tone in your messaging? Social listening is key here. Cal Knight of Twitter mentioned, "We've seen an 11% increase in tweets with an overall positive sentiment."  Once again, cheers to positivity.
Admittedly, this is easier said than done, but in summary:
Be nimble, plan for likely scenarios, create the right content, anticipate what could go right and wrong, and listen carefully to properly understand the tones of the days, weeks, and seasons.
And remember: Big sporting events are prime opportunities to have a bit more fun with your advertising.
Here's hoping you found this information helpful. For more, check out our Summer of Sport Report.