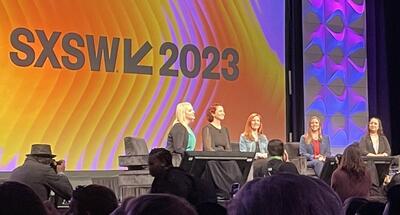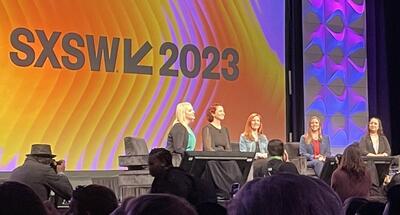 SXSW 2023 gets real

AI and banking dominated most of the conversations during the festival's Interactive stretch.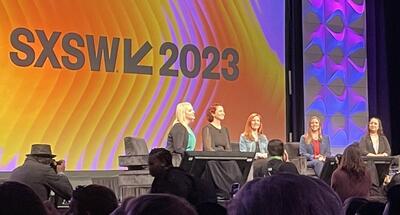 There were two major themes that no one saw coming when speakers submitted session proposals last summer for South by Southwest (SXSW) 2023, which just took place this month in Austin, TX.
The first was the rise of generative AI led by OpenAI's ChatGPT and DALL-E 2.
The second was the demise of Silicon Valley Bank (SVB).
During the Interactive stretch of the annual festival, which takes place concurrently with the Film series and before the Music events, AI and banking dominated most of the conversations. 
Despite the very real troubles that SVB customers grappled with during SXSW Interactive, the two issues combined to make the conference feel like both a return to normalcy and a return to practicality.
It's a far cry from SXSW 2022, which was the festival's first year operating since 2019. Attendees planning to attend SXSW 2020 will recall that the conference that year was scheduled to start March 13, just as the country (and much of the world) rapidly hunkered down to try to blunt the spread of Covid. SXSW was the first major tech and media event to be canceled, and it stayed offline another year. When it relaunched in 2022, it felt much smaller and more sparsely attended, even with a core crew of connectors and creators quick to return but many others holding out.
Last year at this time, the price of Bitcoin was about $40,000, down from its late 2021 high but about double what it would hover at for most of the year since then. The most prominent brand exhibiting was Doodles, which remains one of the top NFT projects. Doodles owners lined up to get their personal NFTs printed in latte foam, and other such web3 exhibitors popped up all over town.
This year, there was constant programming about web3, NFTs, cryptocurrency, blockchain, the metaverse, and related topics (with some enthusiasts insisting those are all very different topics). Yet barely any of the Doodles and their ilk returned, at least in any way that was so pronounced.
The most prominent brands exhibiting around SXSW were entertainment brands like HBO and Showtime, along with Amazon which heavily promoted its Prime Video lineup. Entertainment brands are the most natural fits to invest in SXSW Interactive given many attendees' interest in film and music, even as other brands like Porsche built large installations as a way to bolster their innovation credibility with the influencers and creators attending.
The festival is always a great showcase for brands to excite their loyal fans, such as when Disney showed off a 'real' lightsaber on stage. And for those who wanted to explore galaxies far, far away that were truly real, NASA gave a talk about the James Webb Space Telescope, while also getting credit from attendees like author Kate Baucherel for its all-female panel.
Discussions on stage, at private events, and at gatherings throughout the festival tended to veer toward what's practical and actionable. Even with all the excitement generated by ChatGPT (just ahead of OpenAI's unveiling of GPT-4), marketers and others were eager to know how businesses and consumers can use this. With the SVB shakeout that will likely lead to some investor skittishness and more questions about the near-term economic outlook, the breakthrough technologies will be those with applications that solve problems and fulfill needs. We'll be addressing such needs on our own webinar about AI & Automation next week, so be sure to register and tune in live.
With this strength of a rebound year for SXSW Interactive, expect next year to build on showcases for such real-world applications. The festival will likely expand its focus on how technology can contribute to the transformation of sectors like healthcare and education, along with addressing societal issues like food insecurity and gun violence.
But for any brand that wants to add a little levity, like showing off Grogu (Baby Yoda) getting his first lightsaber, they'll be a welcome and needed part of the lineup too.